Jedinstvo is a public joint stock company, which includes six dependent companies. They contribute to the mother company's ability as a holding company to carry out even most complex business undertakings from its field of operation using its own resources.
Beside the mother company, the Jedinstvo system encompasses:
Jedinstvo – Metalogradnja, specialized for the construction of structures for various purposes,
Užice Gas and Zlatibor Gas companies, specialized for gas pipeline construction and gas distribution,
Auto-kuća "Raketa", a company with years of experience in car sale and service.
The company's affiliates in the markets of Montenegro and Russia – Jedinstvo Podgorica and Jedinstvo inženjering Moskva.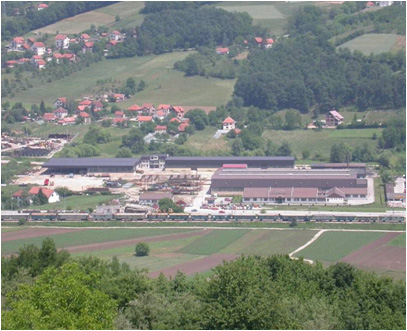 Shares of Jedinstvo are traded on the continuous market of the Belgrade Stock Exchange. The company's ownership structure is still dominated by internal shareholders – managers and former and current employees of the company. Owing to its excellent business performance, the number of external shareholders and portfolio investors from the country and abroad has been gradually increasing.
Jedinstvo ended the 2012 business year with the consolidated business revenue of more than RSD 6bn, while the consolidated net profit amounted to RSD 331.2m. The biggest part of the revenue was made in the domestic market, but significant part of the operations related to foreign markets, primarily those of Montenegro and Russia. The system of companies run by Jedinstvo has more than 1,000 employees, and two-thirds of the staff are hired for the mother company's operations.
In its field of operation, Jedinstvo satisfies most complex demands of clients, meeting stringent quality standards.
Jedinstvo has been certified for:
ISO 9001:2008 – Quality management system (Development, construction and placement of hydro – installations, thermo – installations and gas – installations and facilities, performance of works in the area of structural and civil engineering)
ISO 14001:2004 – Environmental management system
ISO 18001:2007 – Occupational health and safety management system
EN – ISO 3834 – Quality requirements for welding
EN 13941:2009 – Design and installation of preinsulated bonded pipe systems for district heating
Ministry of Natural Resources, Mining and Spatial Planning license.
COMPANY ID
Full name
Prefabricated-manufacturing company Jedinstvo for construction and installation
of hydro-installations and thermo installations and plants
Short name
Jedinstvo ad Sevojno
Headquarters
Prvomajska bb
31205 Sevojno
Key people
Mica Micic, Chairman of the Supervisory Board, Marko Batakovic, General Manager
Phone
381(0)31532911
Fax
381 (0)31 533 685
e-mail
jedinstv@eunet.rs
Belex ticker
JESV
Activity code
4399
Other construction activities
Identification number
07188307
TFN
102136136
Bank Account
Banca Intesa, 160-7204-95
Number of Employees
448 (end of 2012)
Ownership in the subsidiaries
Jedinstvo Metalogradnja (52,8%)
Autokuća Raketa (69,8%)
Užice gas (70%)
Zlatibor gas (100%)
Jedinstvo Podgorica (100%)
Jedinstvo inženjering Moskva (95%)
Metaling Eko d.o.o. Smederevo (100%)
Feniks ICC Ljubljana (25%)